ISSA Master Trainer
The ISSA Master Trainer credential is awarded only to distinguished ISSA Certified Trainers who have proven their competence in personal training and developed expertise in five additional areas of concentration through specialization certifications. This esteemed knowledge means personalized programs and targeted results for any type of client.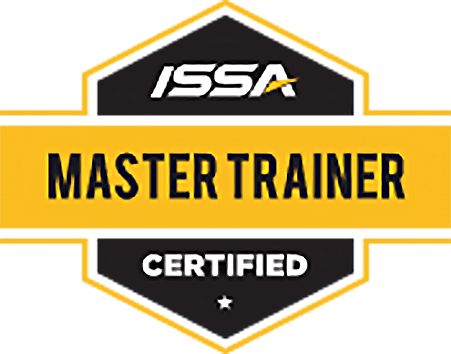 NCCPT - Certified Personal Trainer
The National Council for Certified Personal Trainers (NCCPT) Certified Personal Trainer (CPT) certification has been developed by the NCCPT Certification Board to recognize those individuals who have demonstrated competent knowledge and skills needed to perform as personal trainers in the fitness industry. The NCCPT Certified Personal Trainer (CPT) certification program, accredited by the National Commission for Certifying Agencies (NCCA) is a key indicator to fitness employers and other potential fitness clients that the trainer has demonstrated proficiency through successful completion of an examination of their ability to provide competent training in fitness. Individuals who earn the NCCPT Certified Personal Trainer (CPT) credential have demonstrated knowledge of the professional domains that encompass the tasks and knowledge required of a personal trainer in the fitness profession. By passing the Certified Personal Trainer (CPT) examination, professionals are able to display their aptitude in each specialized knowledge area of fitness training.